Gili Fashion Friendship Bracelet Making Kits with Pop Beads, 30 Pack Strings, Hair Band
【DIY CREATOR】 You'll love presenting GILI bracelet yarn kit to friends and share with them how much you know about using this fantastic braiding toys. Tie elastic, Knot it, Buckle up, 3 steps make pretty jewelry bracelet alone or with friends.
【EASILY GET STARTED】Step by step instruction details 10 knots styles, plain for children to follow. Funny 30 themes stickers allows kids changing buckles everyday. (unicorn, puppy, kitten, elephant, dinosaur, sports, Easter rabbit, Halloween, Santa Claus ) Various playing methods make it hottest toy for 6, 7, 8, 9, 10 years old girls.
【PLENTY OF SUPPLY】30 bright strings, 16 elastics, 30 labels&closures, make up to 16 bracelet, 2 hair bands and 2 little bangles. Packs of Bohemia and petal beads are for little sweetheart to thread and beautify their works. Enough material and recommend for gathering activity on Birthday Christmas party, camping and craft class.
【EXCLUSIVE JEWELRY BOX】Unlock butterfly buckle and flip up to find a large space for storing all accessories. Neat and tidy. Worry free of missing parts during travel and play. What's more, this Supreme quality ABS box can be used to braid bracelet and measure length. Great gift idea for teens and preteen to braid happy youth time.
【POP FOREVER】As always, GILI Bracelet maker kit encourages collaboration and communication from all age group. We add pop beads bracelet for 3-5 year old to join in and increase playability with more accessory. Your smile and satisfaction values for us and we would answer you if there is any question about bracelet.
Good quality decent price kids love it!!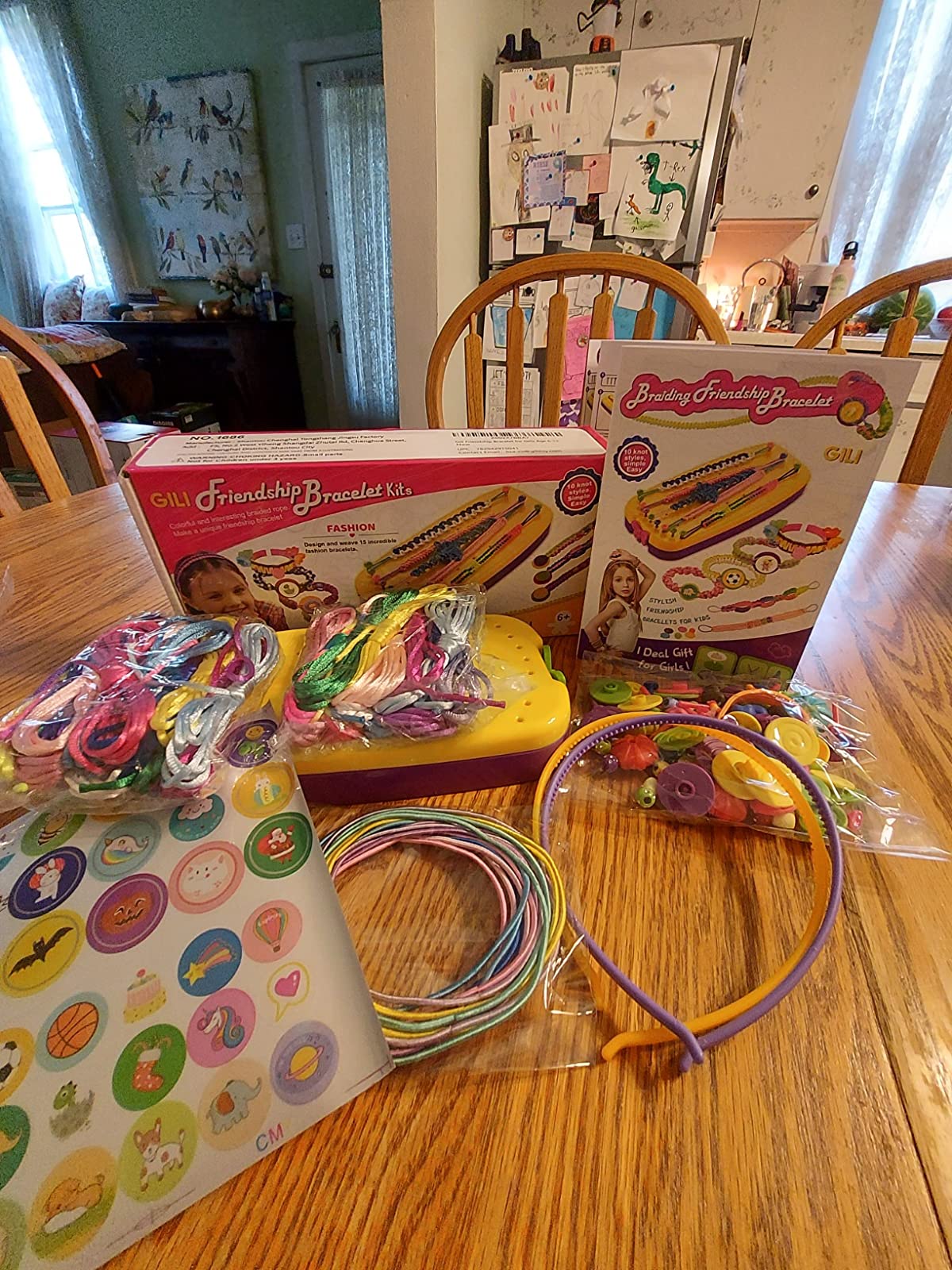 No-Hassle ReturnsWe want you to be thrilled with your purchase! That's why we offer a 14-day return policy, which means you have 30 days after receiving your item to request a return. Learn more.Shipping
Currently, we are only shipping to the EU, UK, and the US. Usually arriving in 2-4 business days. Expedited shipping is available for an additional fee. Shipping times vary. Learn more.